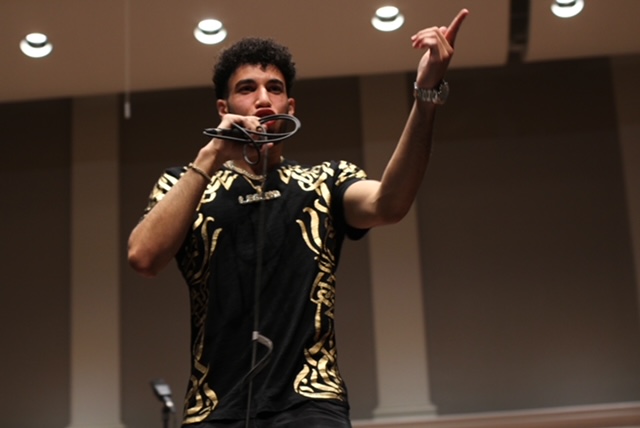 Conductor Devin Patrick Hughes interviews rapper Lightskin Legend on One Symphony today. Change is a mission statement for the charismatic 21 year-old Lightskin Legend, whose high aspirations to change the genre of hip hop and create social movement around the world drive his creative inspiration. A graduate of Rhodes College and master's student at the University of San Diego but originally from Colorado, Grayson Walker is the grandson of Pulitzer Prize-winning composer George Walker and son of renowned concert violinist Gregory T.S. Walker, who is also with us today. 
Lightskin Legend has become a cult favorite with hits like "My Shot", "Pretty Faces", and "Main Thang", and continues to expand in popularity as his unique lyricism and signature sound makes its way around the world. "My Shot" reached the top 25 in the U.K. iTunes Hip Hop Charts, and his latest album Commitment Issues seeks to build off that success. Lightskin Legend recently made his Symphonic debut on Gregory T.S. Walker's dream n the hood, and I'm excited to bridge the symphony and r&b worlds together.
There is a Parental Advisory warning on the music featured in this episode. If you have kids in the room please make appropriate adjustments.
Thank you for joining us on One Symphony with Devin Patrick Hughes and thanks to Lightskin Legend for sharing his amazing gifts and insights, and to his father Gregory T.S. Walker for joining in the conversation. Musical selections were performed and produced by Lightskin Legend and included Pretty Faces, Id, Commitment Issues, & Costa Rica. Ponce De-Leioun also performed on Pretty Faces.
You can experience Lightskin Legend's music on all platforms. You can always find more info at OneSymphony.org including a virtual tip jar if you'd like to support the show. Please feel free to rate, review, or share the show! Until next time, thank you for being part of the music!