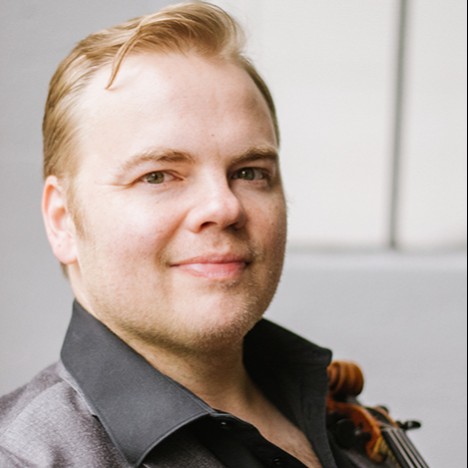 Conductor Devin Patrick Hughes interviews Matthew Detrick, who is a violinist and entrepreneurial leader in the professional arts world, and founded and serves as executive and artistic director of the Apollo Chamber Players, which is an internationally-acclaimed chamber music ensemble serving millions around the world in the realm of creative, programmatic performance, and through commissions of multicultural new music. 
Apollo Chamber Players includes Matthew J. Detrick, violin, Founder, Artistic & Executive Director, Anabel Ramirez Detrick, violin and Content and Outreach Manager, Whitney Bullock, viola and Education Coordinator, and Matthew Dudzik, cello and Chief Financial Officer.
In addition to Apollo, Matthew also is a frequent guest speaker on leadership in the arts, awards funding through the Texas Commission for the Arts, and runs Detrick Arts, which contracts ensembles for charity and corporate events.  He serves as concertmaster of the Symphony of Southeast Texas and has served as soloist and musician for ensembles including Houston Grand Opera and Ballet, and the period ensemble Mercury, and was awarded the Chamber Music America Residency Award. Matt and Apollo can be heard on Navona Records, Azica Records, and Parma Recordings.
Thank you for joining us on One Symphony and thanks to Matt Detrick for sharing Apollo's music and story. All works were performed by the Apollo Chamber Players. 
You heard Seremoj es Romanca from the album European Folkscapes. We Will Sing One Song by Eve Beglarian includes Arsen Petrosyan, Pejman Hadadi, and Joan DerHovsepian. With Malice Towards None by Kimo Williams features electric violinist Tracy Silverman. String Quartet no. 6, Nostalgia de las montañas is by Leo Brouwer. Imágenes de Cuba is by Arthur Gottschalk. Themes of Armeninan Folksongs by Komitas Vardapet was arranged by S. Aslamazyan and Matthew Detrick, and Apollo was joined by Joan DerHovsepian. Mây for Đàn bầu & String Quartet was composed by Van-Anh Vo.
You can check out Apollo's performances, and donate to the cause at apollochamberplayers.org.  You can always find more info at OneSymphony.org including a virtual tip jar if you'd like to lend your support to the podcast. Please feel free to rate, review, or share the show! Until next time, thank you for being part of the music!