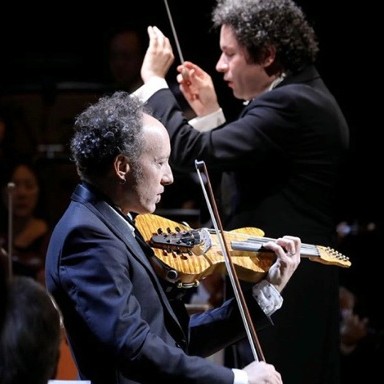 Tracy Silverman, electric violin virtuoso and pioneer, and conductor Devin Patrick Hughes speak about "The Agony of Modern Music," the history of how many strings came to be on the violin, Tracy's debut with the Chicago Symphony, his stint as a musical Olympian, how to not achieve perfection, playing like Ray Charles, Jascha Heifetz, and Jimi Hendrix. He also discusses his collaborations with Terry Riley, John Adams and his Electric Violin Concerti, and his album Between the Kiss and the Chaos.
Described as "the greatest living exponent of the electric violin" by the BBC, pioneering violinist and composer Tracy Silverman believes "strings must evolve or they will perish" and his mission is to reconnect strings with our popular culture and to teach string players to groove. His groundbreaking work incorporating rock, jazz, Americana, hip-hop, and other popular genres with the 6-string electric violin has upended the contemporary classical genre, and his strum bowing method has been adopted by performers all around the world. 
Terry Riley described Tracy's violin playing as being like an orchestra itself. John Adams said:
"When I heard Tracy play I was reminded that in almost all cultures other than the European classical one, the real meaning of the music is in between the notes.  No one makes that instrument sing and soar like Tracy, floating on the cusp between Heifetz and Jimi Hendrix."
Tracy was first violinist in the Turtle Island String Quartet, and was named one of the 100 distinguished alumni by the Juilliard School, and as a composer has 3 Electric Violin concerts among other works, and has performed concertos written for him by John Adams, Terry Riley, Nico Muhly, and Kenji Bunch. The violin virtuoso and humanitarian was recently featured on NPR's Tiny Desk Concerts, Performance Today, CBS Sunday Morning, and A Prairie Home Companion, and is an internationally in-demand clinician and currently teaches at Belmont University in Nashville. 
Thank you for joining us on One Symphony and thanks to Tracy Silverman for sharing his performances and works. You heard Between the Kiss and the Chaos, Hundred Percent Forever, the Beatles Here Comes the Sun, Axis and Orbits, Crazy Times, John Adams's the Dharma at Big Sur, all performed by Tracy Silverman.  
Additional performances were by the Beatles, Fanny Clamagirand, Sinfonia Finlandia, Nikolaus Harnoncourt, the Berlin Philharmonic, the BBC Symphony, and John Adams. Thanks to the record labels Delos, Naxos, Acewonder, and Nonesuch for making this episode possible! 
You can check out Tracy's music and books at  tracysilverman.com and strumbowing.com. You can always find more info at OneSymphony.org including a virtual tip jar if you'd like to lend your support. Please feel free to rate, review, or share the show! Until next time, thank you for being part of the music!